INSTALLATION FEATURES
Suitable for Fixed or protected installation, on or inside lighting appliances and inside switching and control gears. Suitable for installation inside surface or embedded conduits or inside railing.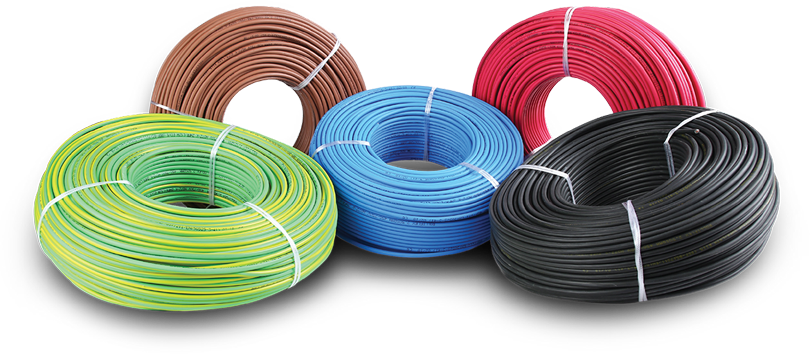 CONSTRUCTION
Conductor: Bright Plain Annealed High conductivity (>99.90%) copper wires bunched together as per class 1/2/5 of IS:8130 (Tin coated copper also available on request)
Insulation: Type A/C PVC as per IS:5831-1984 applied by Extrusion over conductor (Additional FR/FR-LSH Properties for respective cables)
Laying of multicore Round Cables: Insulated Cores laid up together with suitable lay as per IS:694
Laying of multicore Flat Cables: Insulated Cores laid up side by side as per IS:694.
Sheath: Overall Sheathed by Type ST-1(FR) PVC applied by extrusion over laid up cores.
Single Core Cable Insulation Colour: Any colour or bi-colour (i.e. Green & Yellow)
Core colours: 2C: Red & Black, 3C:Red, Blk & Y/G (For Flat: Red, Yellow, blue) 4C: Red, Ylw, Blue, Y/G 5C:Red, Ylw,Blue, Black & Y/G; 6C to 25C: White with nos. & 1 Y/G core for earthing
Sheath Colour: Generally Grey or Black, For 02 Category Cables only Black.
Insulation Resistance (Room Temp.): > 36.70 MΩ/Km
Insulation Resistance (Rated Temp. 70℃/85): > 0.0370 MΩ/Km
Resistant to: Water, Abrasion, Flame
HV Test Voltage: Passed 6KV online & 3KVAC for 5 minutes.
Flammability: Confirmed as per IS 694/ IS 10810 P-53.
Additional FR Property: (For FR/FR-LSH cables)
Oxygen Index: Min 29%
Temperature Index: Min 250℃
LSH Property: For FR-LSH cables
Smoke Density Index: Max 60%
HCL Gas evoluation: Max 20% by wt.
UV Property: For 02 category Cables
UV resistant
Cold Bend & Cold Impact at -15*C
Additional ageing
Minimum Bending Radius: 3xD for D<5mm; 4xD for D:5to7; 6xD for D=7to16; 8xD for D<16mm
Identification: Throughout surface print as per IS:694 Norms & label over coils (Drum stenciled)
Available in coils of: Generally 100/200/500 mtrs or drum length as required by customer.